Plans
and pricing
500 Leads Capacity
Unlimited Users
Leads Manager
Email Builder
Sender Profiles
Templates
Unlimited Email Blasts
Image Uploader
Lead Tagging
List Builder
Landing Pages
Document Manager
AB Tests
Lead Scoring/Color Coding
Digital Business Card
Google Calendar Integration
Facebook Integration
Twitter Integration
LinkedIn Integration
Lead Generator
Segmentation
Import/Export
Bookmarks/Notes Manager
Sales Reports
Forecasts
Custom Sales Stages
Pipeline View
Email Support
Get Started
1000 Leads Capacity
Unlimited Users
Leads Manager
Email Builder
Sender Profiles
Templates
Unlimited Email Blasts
Image Uploader
Lead Tagging
List Builder
Landing Pages
Document Manager
AB Tests
Lead Scoring/Color Coding
Digital Business Card
Google Calendar Integration
Facebook Integration
Twitter Integration
LinkedIn Integration
Lead Generator
Segmentation
Import/Export
Bookmarks/Notes Manager
Sales Reports
Forecasts
Custom Sales Stages
Pipeline View
Email Support
Get Started
2000 Leads Capacity
Unlimited Users
Leads Manager
Email Builder
Sender Profiles
Templates
Unlimited Email Blasts
Image Uploader
Lead Tagging
List Builder
Landing Pages
Document Manager
AB Tests
Lead Scoring/Color Coding
Digital Business Card
Google Calendar Integration
Facebook Integration
Twitter Integration
LinkedIn Integration
Lead Generator
Segmentation
Import/Export
Bookmarks/Notes Manager
Sales Reports
Forecasts
Custom Sales Stages
Pipeline View
Email Support
Get Started
* All Professional packages also have one-time setup & installation costs of $599 only (Compare that to some of our competitors).
* Only Professional customers qualify for phone or one-on-one support.
* We only provide technology/tools with these packages and can not provide consultation/advice on marketing. You will need to inquire about our bootcamp program if you need assistance in implementing solutions to your custom needs as each client situation/product/services is unique.
Get Professional Pricing
Compare Our Low Prices to
HubSpot
,
Act-On
Or
Pardot
Here is a snapshot of some of other popular Sales & Marketing software pricing comparison metrix: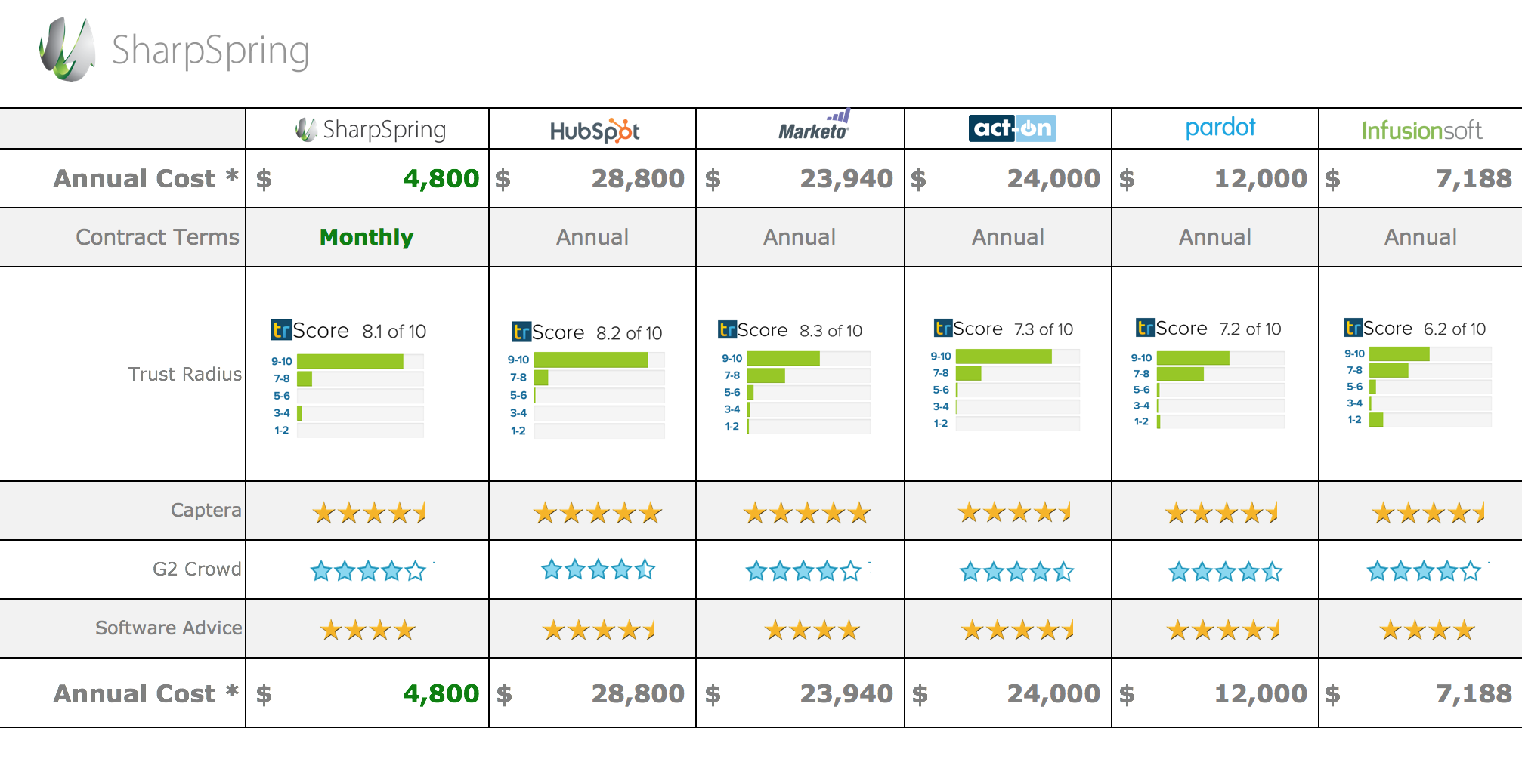 Custom Pricing (based on total leads)
What
They Say?
Fit for purpose

I was looking to build database so I have a platform to grow in future. NashCRM put me on the right path. Now I can market to my prospects very easily using just the tools I needed.
Affordable

I had bad experience with price surge with others so was afraid to try at first but was impressed with what you can do especially with flat rate pricing. Just very glad to have something I can rely on to do what's needed to grow my small business.
How it can help you ?
Contact Management
Business connections, prospects, past clients or current customers, we will help you build a database that is easy to manage in the cloud, so you can access it from anywhere 24/7.

Without a solid CRM system, your business can not realize it's full potential. Communicating with clients with all the historical data & documents in one place can be an asset especially working remote.
Email Marketing
With lowest cost compared to direct mail, it's easy to send multiple touches to nudge your prospects towards buying decision. With precise way to segment your database, you can be sure to hit the target right on the money.

We have built the easiest way to get this done via our no-brainer templates, so you don't need any programming skills. We provide SSL encryption for security and manage all bounces & opt-outs to keep you compliant with CAN-SPAM laws.
Social Media
Social Media is vital to online presence and branding efforts, no matter how small or big your business is. With automated tools, this cumbersome activity can be efficient and precisely tracked.

With our platform, you can reach your target audience using Facebook, Twitter & Linked In. You can schedule your updates to post at your convenience and track statistics that can measure & optimize your efforts, all under one roof.